Leadership Connect is a comprehensive Community Leadership Program that contains two components:
Community Awareness
The class will explore seven different areas of the community and learn how they connect with one another. The class will be meeting at various locations throughout the area. The participants will finish with a comprehensive understanding of the community.
Personal Leadership Development
The participants will receive over 30 hours of leadership skill training. Each month a segment of the day will be spent on personal development.
Some of the skill sets that will be covered in the program are:
Understanding your leadership style
Teamwork
Problem Solving
Decision Making
Managing Conflict
Communication
Benefits for Class Members
Class members establish a strong foundation by gaining an understanding of their own leadership style and the style of fellow classmates. They solidify that foundation through a series of in-depth learning opportunities, which bring them face-to-face with local issues that will have an impact on their future.
Benefits for Organizations
Organizations that support Leadership Connect gain employees who are more resourceful and better prepared for change. They are able to apply skills that allow them to lead more effectively, enhancing their contribution to the organization and improving the quality of life in Northwest Ottawa County.
Commitment
Attendance at a two day Opening Retreat, day-long sessions, held every month January through May and a graduation program in June, are mandatory. Persons who cannot adjust their schedules to accommodate these ten days should not apply. Class members are expected to attend each day session in its entirety. Are you and your employer willing to make such a commitment?
Find out More
Contact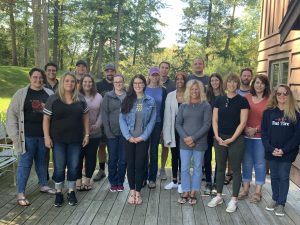 2022/2023 Schedule
Orientation
August 31st
4:00-5:00pm
Opening Retreat
September 13th & 14th
8:30am – 5:00pm
Education
October 18th
8:00am-5:00pm
Economy
November 15th
8:00am-5:00pm
Judicial System
December 13th
8:00am-5:00pm
Human Services
January 6th (Food Truck Day – tentative)
8:00am -5:00pm
Health Services
February 14th
8:00am -5:00pm
State Government
March 14th
6:30am-5:00pm
Wrap-Up/Graduation
April 18th
8:00am-6:00pm