Get Involved!
One of the best ways to build your business network is to join a Chamber committee or task force. Our most satisfied members are those with the highest levels of participation in Chamber meetings and activities. We encourage you to choose the committee that best fits your needs and talents, then give us a call to find out about openings and schedules. We'll do our best to accommodate your request.
Chamber Ambassador Committee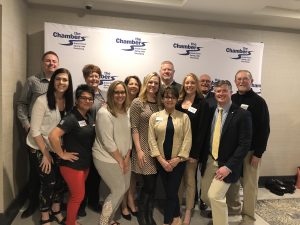 Chamber Ambassadors serve as liaisons between The Chamber staff and its members by promoting membership and encouraging participation. The Ambassadors are a great group of friendly and outgoing volunteers that call on member businesses for input on Chamber membership and activities. Ambassadors work as greeters at Chamber events such as the Early Bird Breakfast and the BASH. They also attend ribbon cuttings, open houses and plan the annual Golf Outing and the Jingle Bell Parade. Ambassadors are a tremendous help to The Chamber as they provide us with updated news and information about our members. Membership on the Chamber Ambassador Committee is by invitation only and the number is limited to 30.
If you are interested in becoming a Chamber Ambassador, please fill out the Ambassador Application. The application, along with any questions, can be submitted to Vicki Ellis, Director of Membership Sales. Your application will be reviewed and voted upon by the Ambassador Executive Committee when positions become available.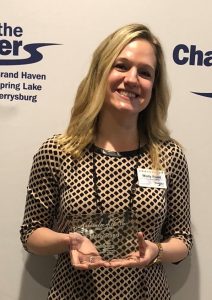 Ambassador of the Year 2018/2019
Molly Rand