Advocacy and Public Policy
Public Policy Committee
The Chamber and Public Policy Committee do not endorse candidates. The Public Policy Committee and the Chamber Board of Directors consistently advocate for your business needs through work with local, state and federal elected officials as well as other Chambers and trade organizations to ensure our voice is heard in both Washington and Lansing.
Campaigning Policy
The Chamber does not endorse candidates for public office, nor does it provide a platform for individuals to campaign at any Chamber sponsored events, including, but not limited to the Early Bird Breakfast, BASH, and Jingle Bell Parade. City and Village rules for campaigning (if applicable) will apply in public space outside of the areas designated for festivals and Farmers Markets.  Candidates may not set up booths or distribute literature within the Festivals or Farmers Market itself or impede foot or vehicular traffic in any way around these venues
Home Sweet Home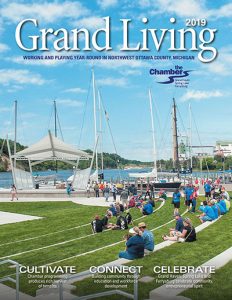 Grand Living is our annual publication listing current Chamber member businesses focusing on the area's economy, healthcare, education and recreation opportunities.