Tips for Reopening Your Business
Consumers want physical, visual assurances that businesses are safe. This include displaying hand sanitizer, having employees cleaning, showing a visible plan of action to protect customers and employees, and certification from local health officials that your business is following recommendations.
Consumers maintain considerable optimism and pent-up demand for goods or services that have become limited or unavailable in the pandemic. When we reopen, businesses must seize that opportunity.
 Customer expectations may significantly or permanently change (i.e. greater demand for online and contact-free services). We must look ahead to a "new normal" and be ready to meet new demands and expectations as we reopen.
We're Open Business Posters
There are two poster versions available: We're Open General and We're Open Occupancy. Both are available with the Grand Haven Lighthouse or an aerial of Spring Lake. Please click the button below the image to download the PDF's that you can easily print. We encourage you to download both versions
General with GH Lighthouse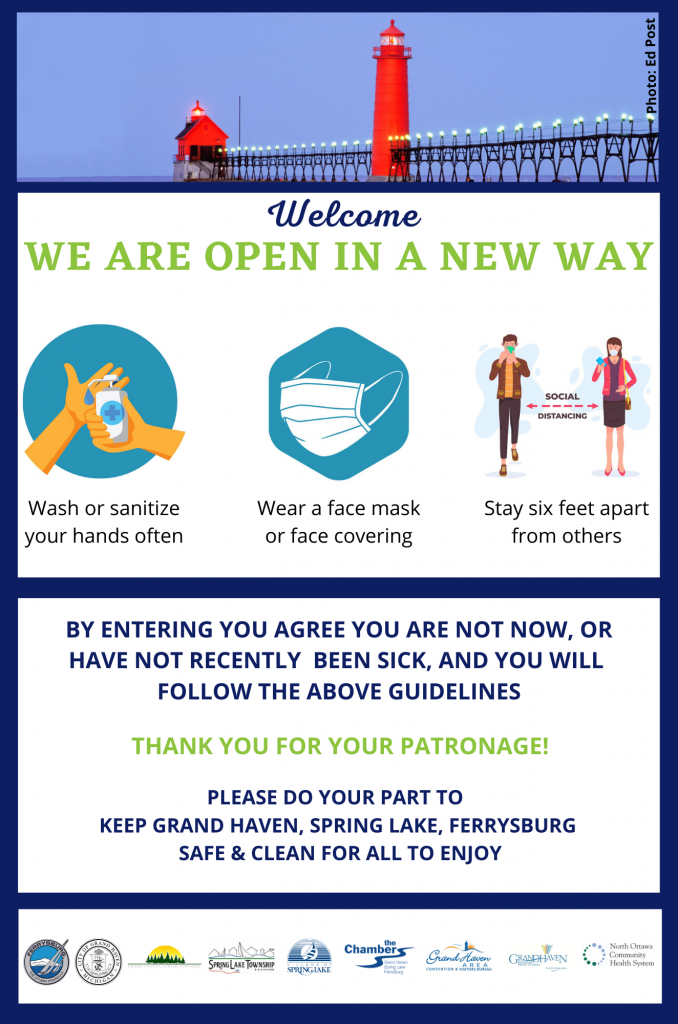 Occupancy with Lighthouse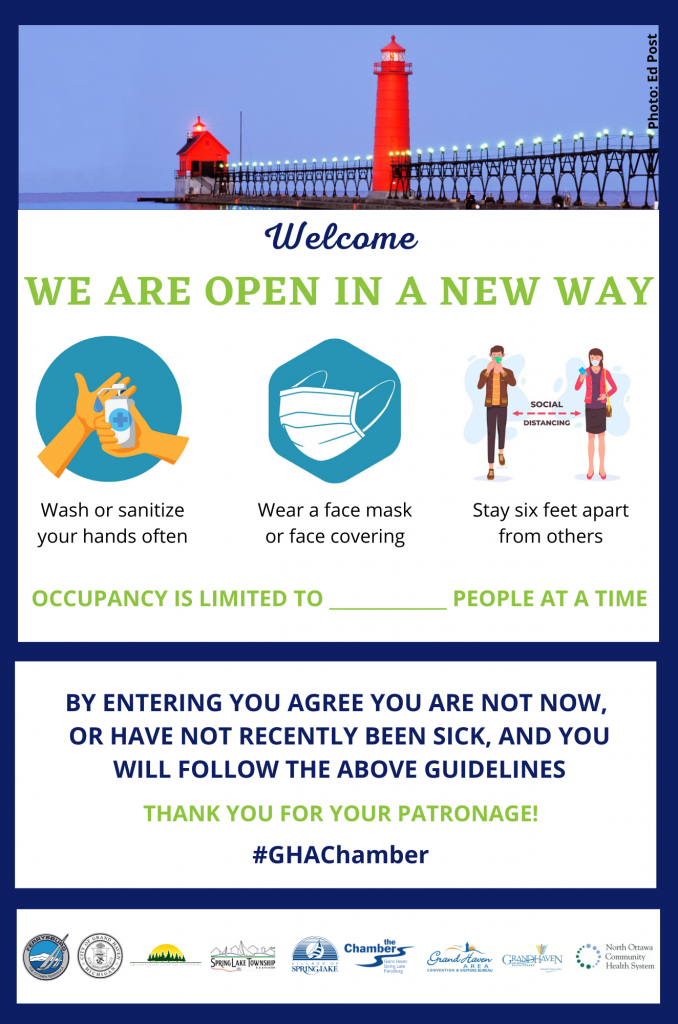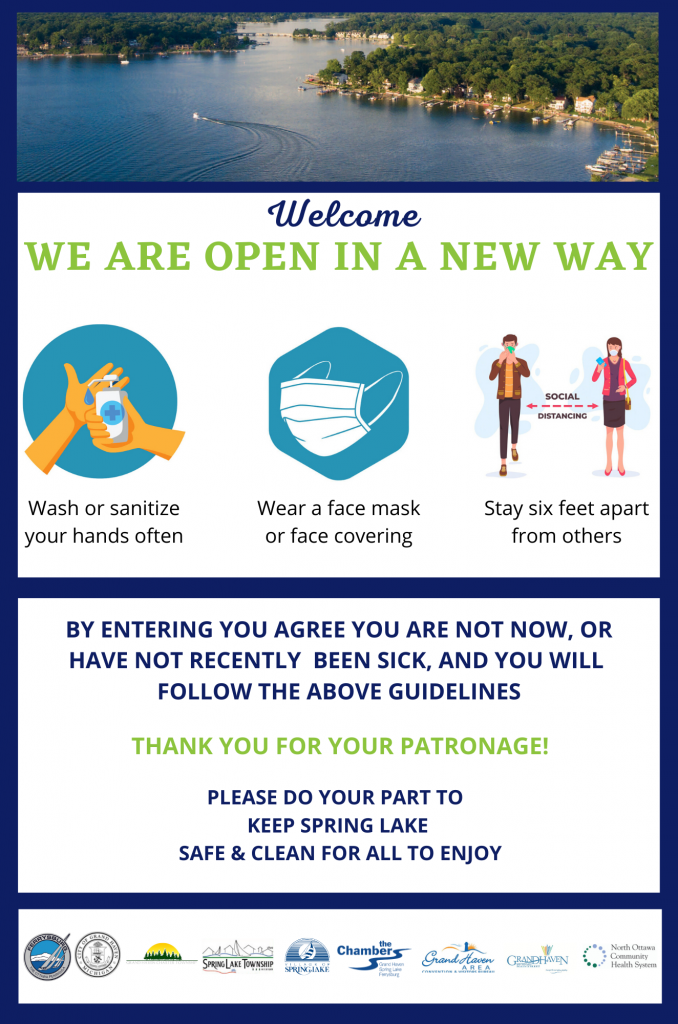 Occupancy with Spring Lake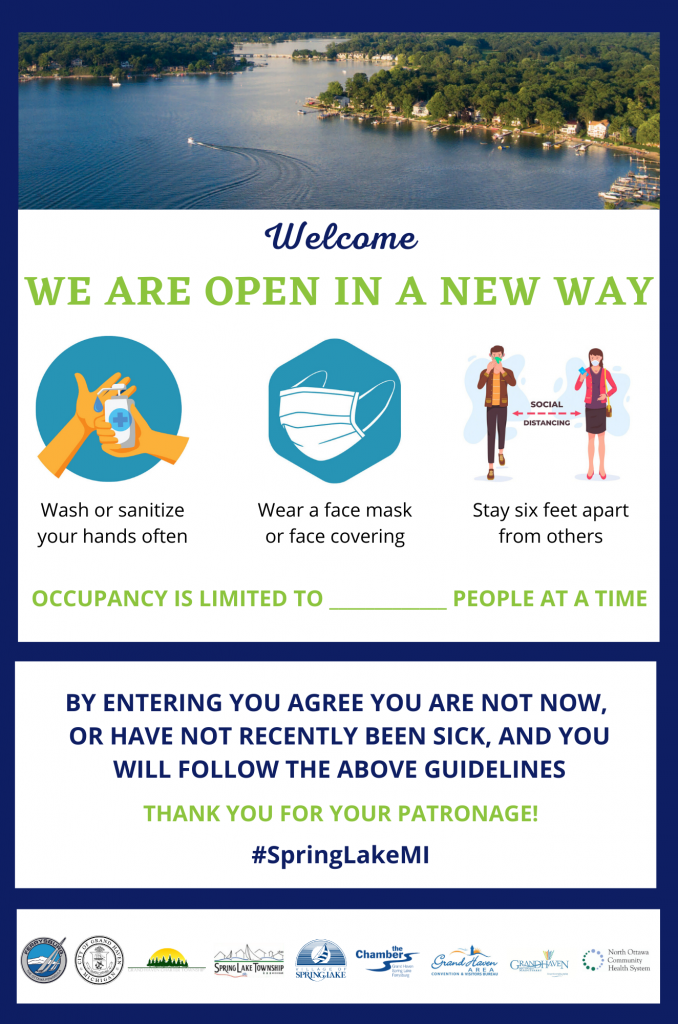 Additional Tips for Managing Businesses
Create an employee communications plan. Share accurate information with employees as situations develop. Basic information, like what the virus is, how it spreads, and how to take care of one's self, can go a long way to prevent rumors and misinformation. Think ahead about how you will communicate in case one of your employees becomes sick.
Review human resource policies. Consider flexible work options. This can mean telecommuting, different worksites or flexible schedules. Remind employees if they're sick, they should stay home.
Plan ahead for how you will handle absenteeism. Michigan schools have been cancelled, which will force many employees to stay home to care for children.
Coordinate with state and local public health officials as needed.
Make a business continuity plan. Be prepared to execute a new strategy, if necessary. Think of alternative suppliers, critical customers or how to continue operations.
Review travel policies and plans. The latest guidance from the CDC can be found on the CDC website.