Everything DiSC® Learning Resources
The Chamber has teamed with HPower & Associates, LLC, to bring custom designed learning processes based on the latest Everything DiSC® learning tools to our members.
The wide-range of DiSC®-based learning processes are facilitated by Nancy Manglos. Nancy received her Certification as an Everything DiSC® Trainer from Wiley in 2010 and since that time has facilitated a wide range of learning processes with Chamber Members. Denny Macha, founder of HPower & Associates, LLC has been an Everything DiSC® Authorized Partner, since 1994.
Nancy will work with your training team to identify how the following Everything DiSC®-based learning tools can be used as the foundation for designing processes that will meet many of your organization's needs.
Everything DiSC Workplace®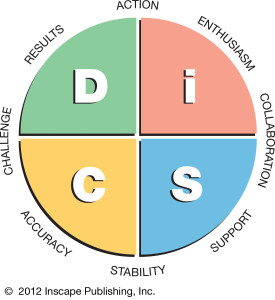 This tool can be used with everyone in your organization, regardless of title or role, to build more effective relationships, enhance team performance and improve the quality of the workplace.
Everything DiSC Work of Leaders®
The Work of Leaders resources provides a focused 3-step process for effective leadership—casting a Vision, gaining Alignment, supporting Execution. Based on best practices, your leaders will learn to initiate and engage in powerful conversations that provide a clear path for action.
Everything DiSC Management
Using this resource, your managers will learn how to bring out the best in each employee. They learn how to read employee styles and adapt their own styles to manage more effectively on a one-to-one basis.
Everything DiSC Sales
This resource will help your sales staff see how successful long-term sales interactions are based on more than product knowledge. It will help your salespeople connect better with their customers by a) understanding their own DiSC sales style, b) identifying and understanding their customers' buying styles, and c) adapting their sales style to meet their customers' buying styles.
Everything DiSC 363® for Leaders
This tool combines the best of 360s with the simplicity and power of DiSC® to provide your leaders three personalized strategies for improving leadership effectiveness. If your organization wants your leaders, whether an emerging leader or an experienced executive, to capitalize on 360° feedback from those they routinely interact with as part of their leadership development, this resource will help them take that step forward.